Home
Industrial and Plant Marking Systems
manufacturing technologies
Metal Signs, Mechanical Engraving
Metal Signs, Mechanical Engraving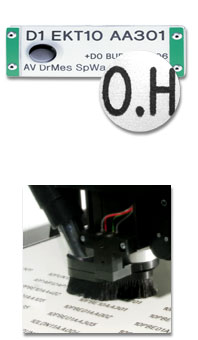 Mechanical engraving is a solution that takes a lot of time and effort, but the reward is a very long-lasting solution. Grooves for symbols, letters and numerals are mechanically countersunk into the surface of the material.
Machanically-engraved metal signs are used, for example, in underground channels and drainage systems in areas where alkalis and acids are in use. These signs have a particularly high resistance to scratching.
The features at a glance:

Extremely durable inscription
Absolutely scratch resistant
Ideally suited for environments where alkali or acid is used
Ideal for outside areas
A wide variety of fastening options are available within the FP portfolio! Boreholes and notches can be made for individual attachment solutions.